by Hal North
As seen in Vice Magazine

Clay. Porn. Porn. Clay. Two words that seemed worlds apart, hyphen or no. To me, clay speaks of art, of form and function, dusty pueblos and ashtrays gone awry. Porn, on the other hand, screams of disco, blonde wigs and bad light - ugly people having ugly sex. It did, that is, until I was introduced to a new era in stop-motion animation courtesy the fine folks at Eyecon Industries and their newest video endeavour, aptly titled "Pornomation".

It's safe to say Pornomation is unlike any video you've ever seen. Laurie Williams and Brad Lambert dedicated hundreds of hours in sculpting coitus and motion, one frame at a time. They ended up with two minutes of animation, nine clay figures locked in orgiastic action, humping in time to an original prog-rock soundtrack.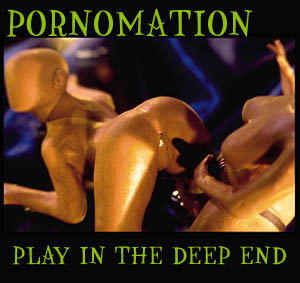 The film is decidedly Triple X, complete with animated cum shots, strap-on dildos and spankings all around. There's nobody whizzing on anybody else, but they have managed to cover a lot of touchy ground that's come to seem commonplace to a new generation of sexual adventurers. Though I didn't witness anything I could describe as shock at the screening I attended, I did sense an air of discomfort by the end of the film. Their promo copy reads, "Just Because It's Clay Doesn't Mean It Can't Get Hard." I'm not ashamed to admit that it did.
I met with Brad Lambert in the basement of his East Vancouver home to find out what would propel two talented young artistes to delve into the world of claymated porn. Try as I might, I couldn't get a straight answer. "Porn is funny," Lambert allowed, "There's a need to express the erotic behaviour that goes on in your mind, and you do that with your lover, or whatever. We spent a lot of time and energy making an animated pornographic video to feel the effects that it causes."
Just the fact that it exists at all might indicate a new perspective on taboo and perversity. That it was produced in the living room of their high traffic home might support that theory. "It became a nice novelty here in the house while we were working on it," he understates, "especially while everyone else was being sexual in their own lives, for me to come to this back room and maintain it."
"I think the first conversations regarding Pornomation were during the making of Poebons In For. I loved the idea of animating pornographic characters, or images through characters. We talked about it for two years, and during that time I would bounce it off people. I guess when we moved in here, two years ago, that's when I really started to think about the idea."
Like in Poebons the characters in Pornomation have no distinguishing facial features, though mouths and tongues do make cameo appearances at appropriate moments, "It's not that I couldn't do faces or that I don't want to do faces. It was simply either, I can do faces or not do faces and I ended up not doing faces. I wanted them to be automaton. I wanted the sex to be automaton but I wanted to streamline that and do something that was visually now."
They've recently taken the project to the next logical forum, the world wide web. Like all fledgling visual media before it, it took the sex-trade a grand total of two minutes before they jumped on the band-wagon and took over the reins. Anyone who's been on-line, even for a second will have noticed just how easy it is to satisfy your most deviant whimsy. With the click of a button you can view lesbians, leather-boys, spankers and spankees, two-somes, three-somes, four-somes and more-somes, all in the plainest of brown wrappers.
Theirs is an ambitious site, complete with Shockwave animation, audio clips from a half-dozen Vancouver bands and a gallery of stills and graphics from all their films. But Lambert has found the web has become a distraction as well as a tool. "It's sucking me in," he admits, "It's pretty bizarre. I'm shocked by it, yet drawn to it, drawn to its shock. It made me lose sight of my actual intention of going there in the first place, which was to see how it was being distributed and represented and find the in-betweens and use what it is to represent what we've done with the claymation."
He blames it on Vegas, as I suppose we all could, "We were still in the organic representation and the discovery of porn and eroticism. Then we went to Vegas and realised everything was digital, or potentially digital, so we got the system and now we're logged on."
To be fair, there was art before porn. Their first production was a rock video for Vancouver's now defunct Sarcastic Mannequins. It featured both cell and clay animation, as well as artful and imaginative band sequences. Beef Zendo begat Poebons In For, a one minute full clay production shown on YTV, Bravo and CBC. You may remember this stark three-piece, resolute in their performance of their creator's jittery tune . Lambert explains. "I made a series of one-minute recordings, hundreds of them, and Songs for the Moment was the release that highlighted fifteen of the best of the batch."
Lambert's skills as a drummer play an undeniable role in the animation process. "The first time I discovered free-form jazz and free-form thought and playing I really wanted to encompass those things, because animation for me is so musical. When I'm in there animating and I move a character and take a picture and I have that whole scope of time it's like musical notes and the in-betweens of those musical notes and what took it to that next note. And because my understanding of theory is very limited it represented my own concept of music theory.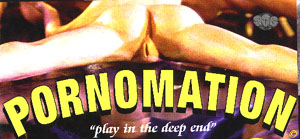 Clay animation is a demanding, time consuming process. At the same time, it offers infinite control over form and motion. "You can do pretty much anything you can conceive of," says Lambert, "That's the beauty of the medium. You're isolating one single frame of real-time film, so if there's 24 frames per second then you can come up with any effect. That's where effects were first conceived, in stop motion. You have your clay characters that you move in very small increments, take a picture, move another increment and take another picture to whatever scale you're dealing with. For me it's such a nice divergence from the regular measure of time.
"I find that when I'm animating, hours and hours can go by and I've created a half-second of film. It's such a great feeling to know I've stepped out of time and created a half second of motion that I can't even reference. That I have to intuitively and instinctively know. It's in the camera and I won't look at it for another couple of weeks. That's the biggest moment of truth, 'Is the exposure going to work, Did the camera even roll film.' After you've viewed it the first time, you can start to hate it."